Technical Information
Design & calculation
IBF technical department designs our products in compliance with all applicable Standards/Codes (ASTM, ASME, API, EN, UNI, BS, DIN, NORSOK, GOST, etc.) to satisfy all customers' technical requirements by means the better design software. Technical department also supports the production designing all heavy tools (e.g. dies) to be used during the manufacturing process.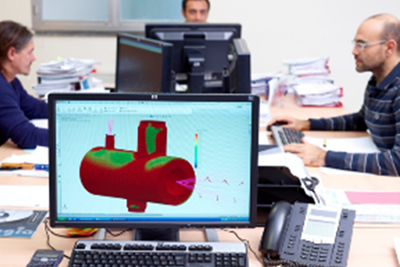 Laboratory
Starting from incoming raw materials (e.g. plates, bars, etc.) and during the manufacturing process of each product (pipes or fittings), IBF laboratory performs, in accordance with the applicable Standards/Codes and client's specifications requirements, the following product analysis and testing:
Chemical analysis
Mechanical testing
Tensile (hot and room temperature)
Impact (until minus 196 degree Celsius)
Hardness (Rockwell, Vickers, Brinell)
Metallographic tests (Grain size evaluation, etc.)
Corrosion tests
All measuring and testing equipment, to be used for any controls, inspections and tests, are also periodically calibrated by IBF laboratory or by accredited laboratories included in our approved vendor list.
A strongly cooperation with all Tubacex Group engineering departments together with special relationship with the Universities (e.g. Polytechnic of Milan, in Italy) are our standard methods used to improve the knowledge of materials behavior working under heavy stress conditions or to develop new materials for supplying consequently better products to our customers.